There was a time when the beginning of a new football season would fill me with excitement. I couldn't wait to see which teams would dominate the league and I grew to know and love the players at the club I support which is Liverpool. This year I found myself simply thinking here we go again! These days I know that either Chelsea, Manchester United or Manchester City will win the league, Arsenal, Tottenham and Liverpool will battle for the fourth spot, Everton will probably finish 7th and everyone else will be fending off the threat of relegation for most of the season.
No Surprises
There will be a few surprise results along the way but the final outcome won't be a shock. Football has become largely predictable which rather ruins it as now everything is dictated by money. The clubs at the top can splash out whatever they need to in order to strengthen their teams. If a smaller club discovers a star player they will lose them by January as the big guns tempt them away. In the ever more bitter struggle for the top spot vast sums of money are thrown about. That money has to be found from somewhere and so there is a riot of commercialism at play. Ticket prices have gone through the roof, more matches are broadcast on subscription television channels and new playing kits appear all the time tempting fans to buy them.
Money Money Money
The football authorities have jumped on the money bandwagon as well by scheduling matches at ridiculous times to suit the TV, staging tournaments in ludicrous places like Qatar and giving most of the available tickets away to big spending sponsors. The clubs are marketing everything to within an inch of its life to the extent that the stadiums, executive suites and even the players are just giant billboards. The top players make millions from advertising and endorsing everything from shampoo to Tissot Watches and the television broadcasts are packed with advertising breaks.
Strangers
To make matters worse I now find that when I watch the early season matches I find myself wondering who the hell some of the players are and that includes the games featuring Liverpool. Every season there are so many players leaving and new signings arriving that I barely recognise my own team let alone anyone else's. You can't have heroes anymore because by the time you have grown to love them they have been sold to Chelsea!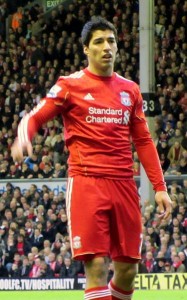 Feeding Frenzy
The sums of money involved are getting ever more ludicrous and surely this whole thing is going to fall down lack a pack of cards at some point. As I write this the Gareth Bale transfer saga is still on-going with sums in excess of £80 million being discussed. There are only so many billionaires out there to finance all this and with many fans already priced out of the game there are only so many left to prop it all up. Clubs are now so desperate they will spend insane amounts of money to attract anyone high profile no matter what baggage comes with them. Arsenal offered over £40 million for Luis Suarez who spends more time off the pitch than on it due to his various misdemeanours. What are they thinking of?
The Future
Personally I hope the football world implodes and we can go back to the days when you really didn't know who was going to win, the big clubs didn't play collect a star and you afford to buy a ticket for the match without taking out a bank loan. Everything was so much more exciting in the old days. I might not have known what shampoo a player used or what watch they wore but at least I knew who they were!
Byline
Article by Sally Stacey