As a teenager I was fortunate enough to be given two rooms in the house all to myself. My parents decorated my bedroom and created a very girly space but they let me loose on my living room. This was a decision that they promptly regretted! Rather than undertaking an elaborate paint job I decided to cover every inch of all four walls with pictures of my favourite footballers and eventually the room became something of a museum dedicated to Liverpool Football Club.
Poor Choice
In those days the football clubs had not woken up to the commercial opportunities that their dedicated followings presented. Even the club souvenir shops offered little more than a few photographs, scarves, kit and back issues of match day programmes. The shops tended to be small affairs under one of the stands at the stadiums and it was hard to find merchandise anywhere else.
In the absence of any other options I simply bought pictures and cut others from the weekly football magazines. My walls were an elaborate collage of these images and I draped my scarves over the furniture to complete the look. It was a riot of red and white and my parents hated it!
The American Way
When I was 19 we visited America for the first time and I discovered that American football fans had much more merchandise to choose from. The football franchises in the States were so much more commercial that our clubs and you could buy just about anything in terms of souvenirs, clothing and home furnishings in the clubs' colours. I was really envious and couldn't understand why Liverpool FC duvet covers and t shirts weren't being offered in the UK.
The Premier League
With the arrival of Sky's live coverage of football and the formation of the Premier League, football began to change forever. More money was pouring into the game, new stadiums were built and the fight was on to claim a slice of what was becoming a very big pie. Suddenly the clubs were building huge stores packed full of goodies and the things that I would have loved as a teenager were now readily available but a little too late for me. Even lower league clubs have a decent offering which would shame the biggest clubs' efforts of yesteryear.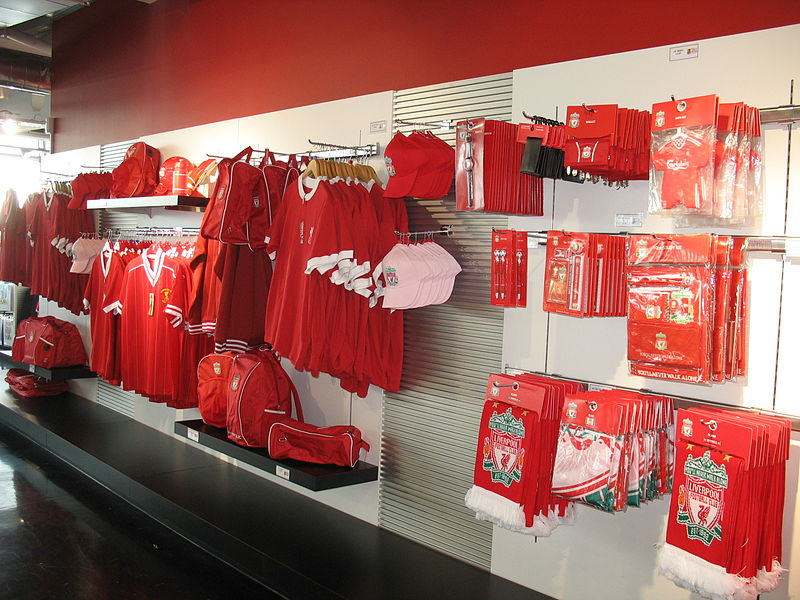 These days you can really go to town on a youngster's bedroom and their wardrobes for that matter. You can buy great bed linen, lamps, rugs and even furniture in the club colours and you could create an entire casual wardrobe from the clothing on offer.
The rooms in my home are a little more restrained than my old living room homage to Liverpool. All I have now is a framed, signed shirt and a watercolour painting of the stadium in my home office. I look back with fondness at my teenage living room and I wish that I had enjoyed the choice of home accessories that is available now. I would still have dedicated the room to Liverpool FC but it would have looked a lot more stylish!
Article by Sally Stacey