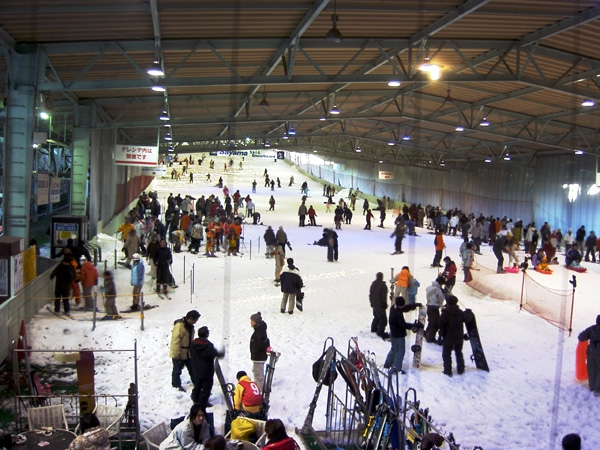 Having taken two skiing holidays you would think that I would have learnt my lesson about the rigours of the sport but clearly not! If you are not in tip top condition skiing can really stretch your leg muscles and it is best to build up your strength gradually. This doesn't explain why I decided to book an all-day session on the indoor slope having only skied for two hours since the beginning of January!
Method in the Madness
So why did I do it? Well indoor slopes in the UK are far from cheap and there aren't many of them meaning that there are travelling expenses to consider too. As an all-day lift pass represented much better value than a short session and made my lengthy journey justifiable I opted for six hours on the slope to mark my return to the snow.
New Equipment to Test
I could have waited until cheaper prices kick in from May but I had taken possession of a new pair of skies and so couldn't wait to try them out. I was hoping that the new skies would help me improve and set off for the Snow Centre full of hope.
New Skills
It was immediately apparent that the new skies were going to make a world of difference to my efforts. I instantly felt more confident and began to ski faster with less turns. It felt great to be making progress but it wasn't until late in the day that I realised that my new found skills were stressing different muscles in my legs and that I was going to suffer for my sport. My previously slow progress with wide turns had been stressing my thighs but skiing faster was punishing my calves.
The End of the Day
When I finally quit the slope and returned to the changing room I could already feel my muscles screaming. By the time I arrived home after a drive around the M25 I was walking like a robot and every step was very painful. The need to cook dinner kept me on the move for a bit but when I sat down I feared that I would never be able to get up again. Walking upstairs was complete agony and as I write this one day later my leg muscles are still as tight as hell. Trying to wriggle into my skinny jeans this morning was a major mission!
Great Workout
Until I took up the sport I had no idea how physically demanding it can be. It is a great work out for the whole body and is a brilliant way of keeping fit and shedding the pounds if you are able to ski regularly. If I lived near an indoor slope it would be hard to keep me away but sadly I don't and during the winter the prices are so high that it costs more for a couple of hours than it does to ski all day in the Alps. With a busy slope, queues for the lift and the travelling involved the visits are not great value really but I must continue to ski otherwise those legs of mine well never bit fit for purpose!
Byline
Article by Sally Stacey