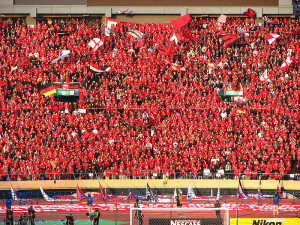 I am a Liverpool fan and have attended hundreds of matches over the years. I can still remember the first time I saw my team in 1977 and I always loved the excitement and atmosphere of the games. It is easy to get wrapped in proceeding s when it is your team on the pitch but can a game still be thrilling when it does not feature your team?
Travelling
In my younger days I was reliant on my Dad to take me to Liverpool matches but when he couldn't make it I would take myself off to more local games. I was a frequent visitor to Arsenal, Tottenham, Queens Park Rangers and Charlton and saw some great matches as a result. I was young and only really had eyes for Liverpool and so the ups and downs of the other teams did not really affect me that much but as I grew older things changed. Even after I had moved to Liverpool I still attended matches elsewhere and as an adult I found being a neutral really entertaining.
Can You Be Neutral?
The truth is that you are rarely ever a genuine neutral. You always end up favouring one side or the other and sometimes you end up watching a game where the outcome will affect your team and so neutrality is impossible. My football adventures have taken me to some extraordinary places.  I have been privileged to witness many outstanding games where I really got caught up in the emotions of the day and felt like a partisan supporter by the time I have left the stadium.
Southampton
Back in 2005 I attended a late season game between Southampton and Norwich. Both teams were struggling at the foot of the premier league and seriously threatened with relegation. It was a must win fixture for both teams and you could have cut the atmosphere with a knife. Even I felt it and the tension was only heightened when Norwich scored early. As any footy will know an early goal is often a precursor to an exciting match and so it was here. A crazy and incident filled match followed and was climaxed by a late and dramatic Henri Camara winner for Southampton. At this point even I leapt up to celebrate. You can truly get sucked into to the drama even as a neutral!
The FA Cup Final
Two years earlier I had been at the 2003 FA Cup Final between Southampton and Arsenal. This time the game was rather poor but the Southampton fans blew me away. Before the game you could feel the passion and as the teams ran out a huge amount of balloons were released by the Saints fans in the stands. It seemed like everyone had come equipped and the fans near me were handing out personalised printed balloons to everyone around them. I actually felt quite emotional and was really quite upset when Southampton lost!
The truth is that no matter who you support if you find yourself at a good enough game it is almost impossible not to get wrapped up in the drama of the occasion. Can you imagine being at Manchester City's last game of the season in 2012? When that Sergio Aguero winner hit the back of the net it had me in tears and I was only watching on TV!
Byline
Article by Sally Stacey