If you or a child have recently taken up dirt bike or motocross riding, then the sheer range of equipment and kit on the market can be mind-boggling. When you are new to the sport it can be difficult to work out what is an absolute essential, and what is just a "nice to have". It is very easy to go out and blow thousands on gear you will never use, and will just gather dust until you stick it on Ebay and sell it for much less than you paid for it. So what is an essential and what is not?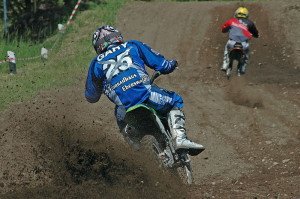 Helmet
Scrimping on the one item which could save your life in a serious fall is the very worst sort of false economy. Never buy a second-hand helmet unless it comes with a cast iron guarantee that is has never been in an accident, and if you notice any cracks or damage around your helmet it's time to replace it with a new one. Search online for reviews and safety comparisons, and try the helmet on before committing to buy so that you can ensure it is comfortable and fits you snugly. All good motocross stores will have a good range of helmets and will help you choose the one which is best for you.
Body Armour
Many people who compete in motocross wear light weight body armour under their shirts or vests. This is also a good investment as body protection will help prevent serious injury if you fall off. The body armour goes across your chest and back, and many brands are ventilated to help keep you cool when you ride. There are also shorts and full length leggings to protect the lower half of your body and smaller items like knee and elbow pads. The exact sort of protection you will need will depend on the type of riding you are planning on doing so it is important to take advice from the professionals.
Shirts and Jackets
The idea of the body armour and the elbow pads is that you can wear them underneath your clothing, so what you wear on top isn't as important. If you want something really up to date, the 2014 Fox MX gear range has something for everyone, and is designed especially for motocross riders. Alternatively, beginners may find it better just to wear a long sleeved cotton t-shirt and an old jacket until their riding skills improve. A product from the the new catalogue also makes a great gift for any budding champion.
Boots
Boots are another essential, as one of the most common motorbike injuries is a broken ankle. Look for properly designed motocross boots which have toe and ankle protection, and it is worth paying a little bit more for one of the top brands which will keep you hopefully injury-free. Look after your boots by cleaning them after each motocross event, and they should last for many years which works out cheaper than buying several budget pairs of boots too.
Byline
Article by Morag Peers