A few years ago some friends of mine suggested that we take a golfing holiday in southern Spain. I pointed out that I had never had any desire to travel to the Costa del Sol and that I was not a great fan of overtly touristy destinations but eventually I agreed to the trip. Sadly it wasn't long before I started to regret my decision.
Booking
Unsurprisingly finding flights and suitable accommodation was not a problem but I ran into trouble trying to book our tee times. Having selected several courses which looked like great places to play I began to call each in turn only to find unhelpful staff and an overdose of no speaky English! I was sure that they could understand me perfectly well and I got the distinct impression that these courses actually didn't want us to play. A little bemused I finally contacted an agent in Gibraltar who confirmed that the Spanish golf courses could be very unhelpful and he kindly booked everything for me.
Arrival
A few weeks later we flew to Malaga and encountered our first major issue at the airport. We had booked an estate car to accommodate the three of us, our luggage and our clubs. When we reported to the hire company's desk we were offered a vehicle the size of a Mini and a major argument ensued. Other customers were left standing in a lengthy queue whilst we attempted to resolve the problem and we eventually got we wanted but only, I suspect, to get rid of us. We then drove to our apartment which was perfectly fine and started to look forward to the rest of the trip.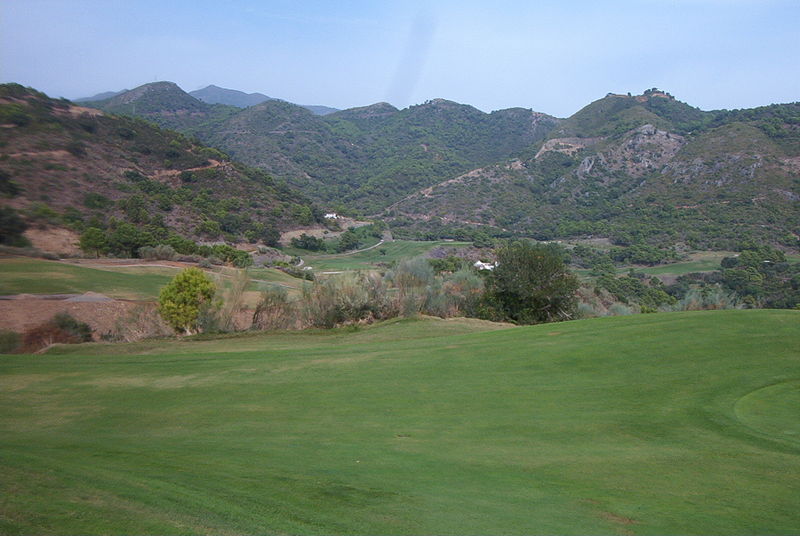 The Golf
We played several courses and they were all pretty decent. The stand out was a place called Monte Mayor near Estepona. This was a spectacular course in the mountains with some very memorable holes but I understand that it closed down for financial reasons in 2011. Perhaps friendlier booking procedures may have helped! The worst place we visited was the famous Valderrama course. We weren't playing as my friendly agent had recommended a neighbouring course which was similar but much cheaper. We just thought we would stop by to take a look at the place. We parked up and walked around the clubhouse to take a quick peak and were virtually ordered off the property! It is safe to say I won't be booking a round there any time soon.
As we drove around the region I understood why I had never wanted to travel there. The place was one development of ugly hotels after another with several blots on the landscape clinging to the coast.  Everything was so geared to British tourists that there was little of authentic Spain to enjoy. You could buy fish and chips and an English newspaper but there was no sign of traditional cuisine, Spanish instruments or Flamenco dancing. How strange that somewhere so obviously targeting the British tourist could boast so many desperately unhelpful golf courses.
Conclusions
Things may well have changed in the region by now but I wouldn't bother travelling there again. I didn't enjoy the resorts on the coast and the golf courses, apart from Monte Mayor, were unremarkable. If you consider the amount of hassle it took to book tee times I think there are many much better options for golfing holidays where the courses are better and arranging the trip is far more straightforward.
Byline
Article by Sally Stacey