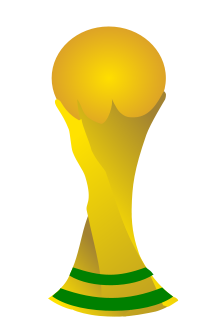 I always look forward to the World Cup with eager anticipation but heaven knows why because recent tournaments have largely been a disappointment. What should be a massive festival of football has often been reduced to a war of attrition with one boring tactical match after another, a truly awful final and many matches decided by nothing more than poor officials.
2014
Thus far, however, the 2104 World Cup has been a different animal. We are still in the group phase and there have indeed been a few hideous refereeing decisions but the matches have been vibrant affairs. There have been plenty of goals and several shock results that could suggest we may actually have an unexpected winner of the tournament although I still think that this idea is pie in the sky. When the endgame arrives we will almost certainly see one of the traditional big boys lifting the trophy yet again.
Advertising Overload
The tournament is progressively becoming a giant marketing fest too which is rather depressing. No visible surface is left untouched as sponsors' messages are constantly thrust in our faces via pitch side advertising boards, commercials, logos, team kits and everything else that might find its way in front of a camera. Even the fourth official's board carries a huge Hublot logo and I am sick of hearing about the merits of Coca Cola and McDonalds! Adidas are one of the official sponsors. Does that mean that sales of their shoes and boots will go through the roof? Are people really influenced by exposure to the brand name? I guess they must be if the companies are prepared to pay such huge amounts to get their name connected to the tournament.
The Boots
It seems to me that the football boot brands are all getting great exposure anyway as their wares are being sported on the pitch and feature in all those slow motion replays. The big brands appear to be making a huge effort to get the boots noticed as black styles are firmly a thing of the past. Boots are now bright pink, neon yellow and even sport funky stripes and so they instantly draw the eye. A pair of Pumas has one pink boot and one blue one! Sponsors Adidas will be delighted that the star of the show thus far, Arjen Robben, is wearing their boots and Nike have the Kudos of home favourite and global superstar Neymar wearing theirs. I guess kids may be influenced by what their favourite stars are wearing but I don't think I would buy trainers because one of my idols has been paid to wear them!
Stereotypes
I think the most amusing aspect of the tournament thus far has been the tendency for the various nations to revert to type. No matter how many years pass, or where the players ply their trade during the regular season, some things just don't seem to change. For instance you can always rely on a Cameroon player to do something absolutely scandalous and get themselves pointlessly sent off. Nobody will ever forget Benjamin Massing's assault of Claudio Caniggia at Italia 90 and now Alex Song has followed his lead with a vicious and unprovoked attack with his elbow.
Uruguay have always been a team for whom cheating and violence is an integral part of the game and despite Gustavo Poyet's assertion that this is a new era for the team, Maxi Pereira clearly hasn't got the message and we haven't seen Luis Suarez yet! Until 2008 Spain had a very long history of underperforming, a habit which has clearly returned. Portugal always flatter to deceive and haven't even managed the flattering bit thus far and Argentina always start badly, don't improve much and then end up making it to the latter stages of the tournament. We will see!
All in all this year's World Cup has thus far been an exciting blend of end to end matches, goals, controversy and the comfortingly predictable. I am slightly sick of the marketing overload already and the Brazilian television directors have a unique talent for missing the action whilst focussing on random members of the crowd but the football has been compelling and that is what really counts.
Byline
Article by Sally Stacey