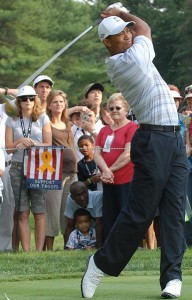 I had long since been a fan of professional golf and had attended many tournaments but despite enjoying every minute I had never felt particularly strongly about any individual golfers. It didn't really matter to me who eventually won the tournaments which took a bit of an edge away from proceedings. Then, one evening, I was watching an amateur competition on television and my attention was grabbed by a teenage golfer. My attitude to golf was about to change forever!
The New Sensation
The young player I was watching had a ridiculous level of ability combined with uncommon audacity and bravery. He also had what I can only describe as a special aura which I could sense even via the small screen. There was also the fact of his extraordinary name. Anyone called Tiger had to be something special! This was a guy destined for stardom and I had found a golfer to follow. Tiger Woods went on to dominate the amateur scene for two years attracting a great deal of interest around the world. When he finally turned professional everyone, and especially me, were wondering how long it would take him to win his first pro tournament. It was not very long as it turned out.
A Star is Born
I had certainly picked a winner and Tiger Woods soon became the top player in the world. I was privileged to be able to see him play in the Open at Birkdale, an experience I will never forget. The first time I witnessed him strike a ball I was in total awe. How was it possible for anyone to hit anything that hard and manage to stay on their feet? If I swung that vigorously I would follow the ball down the fairway!  I enjoyed the tournament but Tiger didn't win it and so I was determined to attend another. My favourite tournament had always been the Players Championship at TPC Sawgrass in Florida and so I decided that the next time I saw Tiger Woods it would be there. The small issue of the 7,000 mile round trip would not be a problem!
The Players Championship
It was 2001 and I was beside myself with excitement as I walked onto the course at Sawgrass for the first time. The only thing troubling me was the fact that Tiger Woods was having a lean spell and had lost his form. I had travelled a long way to see him but it was now very unlikely that I would witness him winning. I comforted myself with the thought that I could at least watch him play and that I was about to see the world's top golfers tackle the course that I had always wanted to visit. The first two days were highly enjoyable but Tiger was languishing in the middle of the field and had not produced anything spectacular. I had been thrilled by watching the tee shots to the infamous 17th hole with its island green but where was Tiger? The third day brought genuine excitement as he started to move up the leader board and by the final day he was within striking distance. I walked onto the course on that final day hardly able to contain myself. As the leaders approached the back nine I took my position on the 16th green to watch them all come home. The area around the 16th and 17th holes is surrounded by so much water that I could have taken my angling tackle and caught my dinner! It also made for the most intense drama. Tiger was making great progress and looked a likely winner until Vijay Singh eagled the 16th right in front of me. I was really annoyed and got told off by another spectator for not applauding! When Tiger also eagled the hole I was beside myself. He followed up with a miraculous birdie at the 17th and I was standing on the 18th hole when he sunk the winning put! What a day!
Ambition
I had fulfilled two of my greatest ambitions. I had attended the Players Championship and seen Tiger Woods win. I was on a ridiculous high for several days and Ironically on my return home my football team, Liverpool, won the treble and I was lucky enough to be at all three finals. My 2001 was a great sporting year, one that I will never forget.
Byline
Article by Sally Stacey who as you may have noticed is a huge Tiger Woods fan